The Lisner-Louise-Dickson-Hurt Home in Washington, DC is one of my all time favorite nonprofit organizations. They provide excellent care and a fabulous home for seniors who have low to zero income. Without them, these seniors would have no place to live.
While there are many other well deserving organizations that serve people with needs, I feel that seniors are some of the most forgotten people in our thoughts. Many of them have nobody there to visit them or take care of them — let alone empower them and show them that life doesn't end when we get old.
In addition to being supported by an amazing and loving staff, the seniors are provided with an inspiring art program where they learn how to paint — even though most of them had absolutely zero experience. Their art work have been on display at Bloomingdale's, Sushiko, and Peacock Cafe — with all of them sold for the benefit of the home — which gives the seniors a chance to give back to the home that support them.
During their annual Spring Art show in 2011, we celebrated the lives of the resident artists at the Lisner-Louise-Dickson-Hurt Home.  These black and white portraits were accompanied with paintings by Don Patron and stories captured by Megan Harrington through a series of interviews.  It's clear that their stories prove that it doesn't matter how old we are or how much we have struggled in life, each one of us can still make a difference & inspire others to do the same.
Through sales of their artwork, the photo exhibit, and sponsorships, the event raised over $10,000 for the home.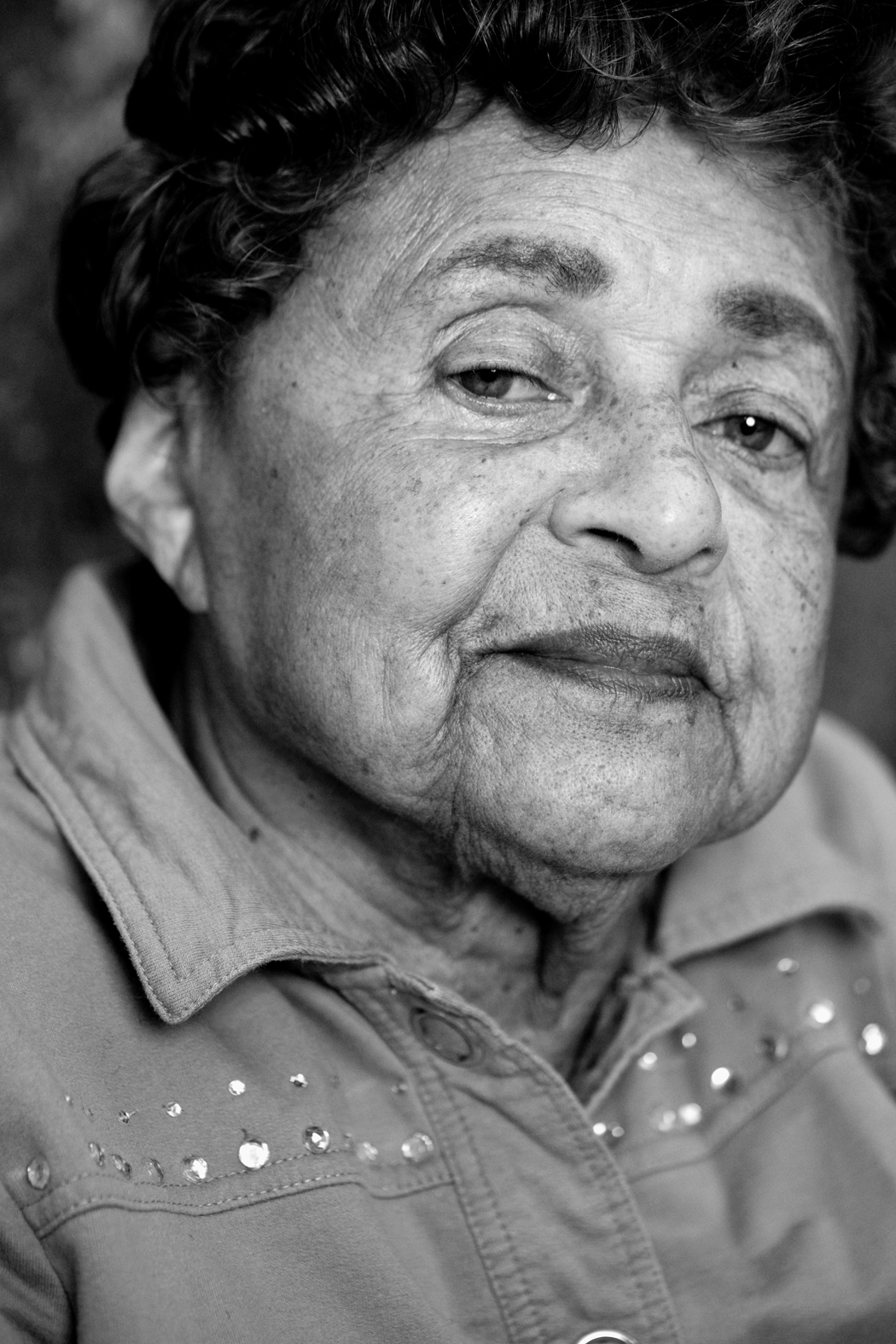 GLORIA THORNBOURGH
Gloria Thornbourgh is a Lisner-Louise-Dickson-Hurt Home resident celebrity, having been a professional dancer for years with the Katherine Dunham Dance Company in Washington D.C. "Once a Dunham dancer, always a Dunham dancer," Ms. Thornbourgh proclaims as she speaks of her experience with the company. Before the curtain was raised, Ms. Thornbourgh would peep through to admire the audience and was once caught standing on the stage when it had been lifted too quickly.
The former roommate of Eartha Kitt recalls the adversity of being in an exclusively African dance company traveling through the south, but has been lucky enough to dance all over the world, as well as in the 1948 major motion picture, Casbah. She admits that she was constantly afraid of being dropped by one of the male dancers while filming multiple takes.
While Ms. Thornbourgh had never been much of a painter before arriving at the home, she appreciates the nostalgic feeling of performing that has returned. "If I had known that I would have lived this long I would have painted more pictures…"
Photographed by Walter Grio.  Written by Megan Harrington.
MARY JONES
Mary Jones never thought any of this could happen; that she would be creating beautiful pieces of art, let alone that people would want to buy them and display them to the public.
Ms. Jones enjoys the art sessions at the Lisner-Louise-Dickson-Hurt Home for many reasons, one of which is that she gets to collaborate with her friend of many years and fellow resident J.T. Henderson. Their joint efforts created a stirring piece entitled, "Twighlight." The two have been linked throughout their youth in the District and remain very close in the home; however, she remains quite coy about the details.
Most artists have behaviors or rituals that get them into the creative mindset; Ms. Jones is no different. She has been known to eat a variety of snacks during art classes, including chicken wings out of her purse. And while she may be a woman of few words, her appearance is always noticed; Ms. Jones loves to paint in her jewelry and remembers the days when people dressed up for everyday occasions.
Photographed by Walter Grio.  Written by Megan Harrington.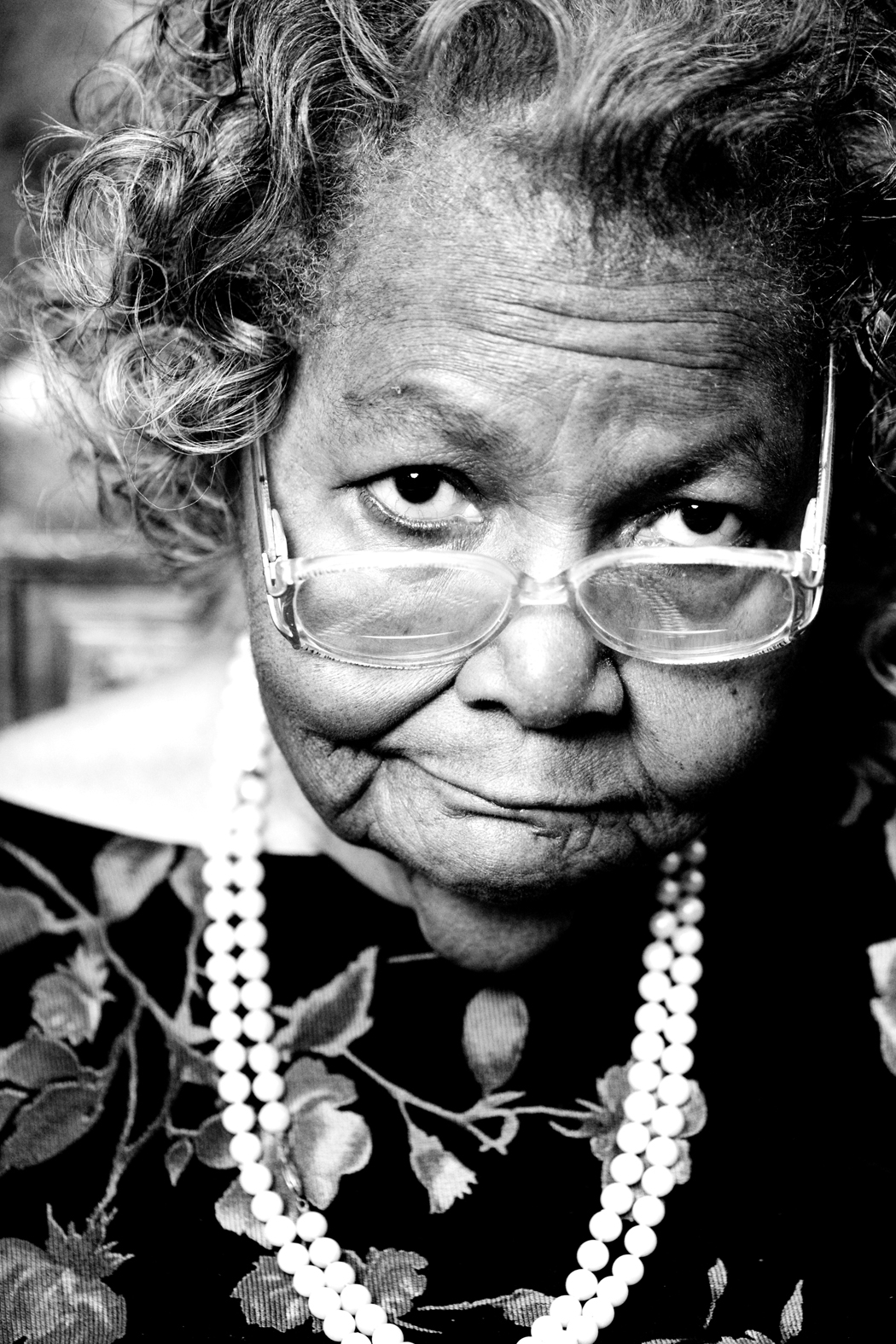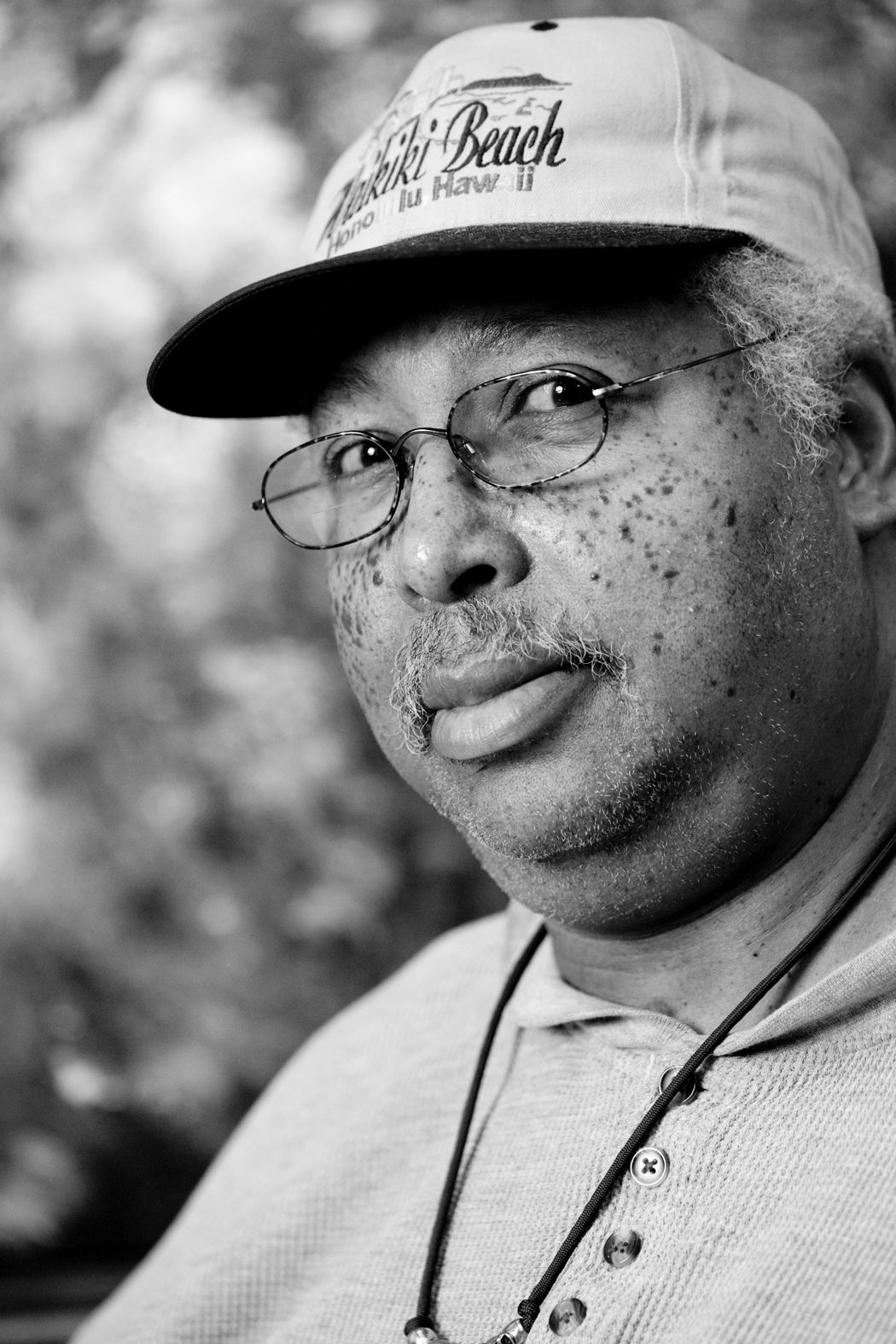 J.T. HENDERSON
The aptly nicknamed, "Town Mayor," J.T. Henderson is an extremely social resident at the Lisner-Louise-Dickson-Hurt Home. He enjoys engaging with the people around him, especially fellow artist and resident Mary Jones whom he has known for decades. They collaborate on many pieces that are quite frequently sold. One of his most cherished accomplishments is a detailed mountain on the bottom of a soda can that he proudly displays in his room.
Mr. Henderson loves to share his accounts of meeting famous musicians during his occupation at a Washington D.C. record store during the 1960s and while frequenting the popular Peter Green Variety hour. He can regale you with many stories of acquaintances including Diana Ross, Michael Jackson, and Marvin Gaye.
The former Marine Sniper now finds comfort and freedom in creating his art. When Mr. Henderson has a vision or inspiration in the classroom he is not afraid to pore over each detail until is it how he sees it in his mind.
Photographed by Walter Grio.  Written by Megan Harrington.
JACKIE KELLY
Jackie Kelly has had an affinity for creating art her entire life. She began drawing as a child, copying images out of magazines for her mother, whom she recalls to be quite the artist as well. Not only could Ms. Kelly draw, but also varied her talents into other outlets like woodcarving and painting. As a life long animal lover, her favorite piece is a drawing of a friend's cat named after Pyewacket from Jimmy Stewart's 1958 film Bell, Book, and Candle. She remembers it well and claims it to be her best work so far.
Ms. Kelly has quite the passport with multiple trips overseas during World War II. Italy, Thailand, and Germany are a few of the countries she has seen but the city of Frankfurt holds a special place in her heart.
In 2009 Ms. Kelly received Honorable Mention for Residents' Rights Week Art Contest for a piece entitled, "My Voice" which she is humbly proud of.
Ms. Kelly is very driven when it comes to her artwork. There is a particular tree at the home that she has been drawing for years. She attributes most of her fascination with the tree to the intricate limbs and how they transform throughout the seasons. Still life is Ms. Kelly's most enjoyable subject; however, she is also quite excited about the modern art she has started at the Lisner-Louise-Dickson-Hurt Home. There is a freedom to the style fostered through the art program, which Ms. Kelly finds pacifying; she claims to have never really thought about technique, but rather enjoys to "just sit down and paint…and splatter a bit."
Photographed by Walter Grio.  Written by Megan Harrington.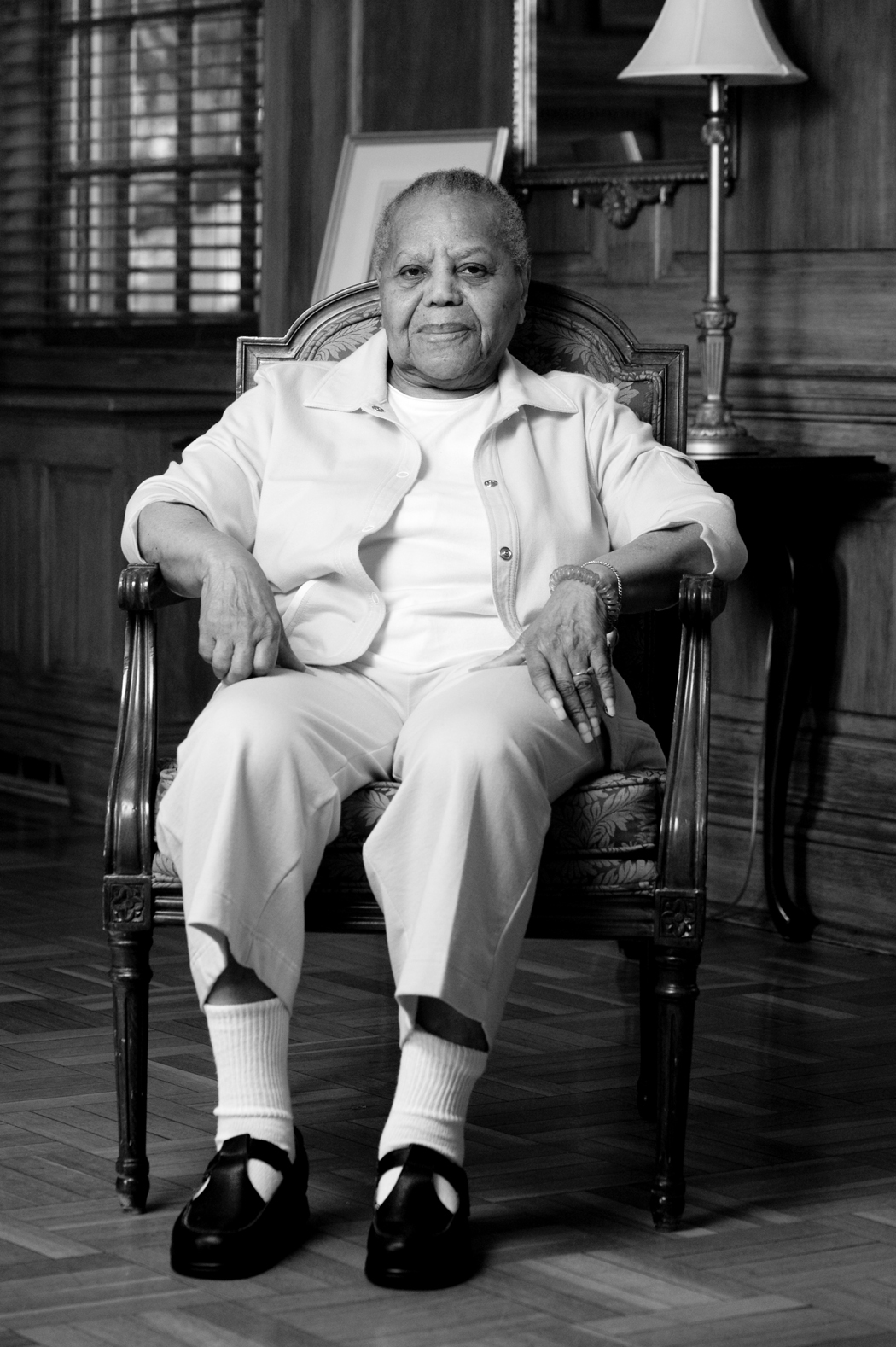 MILDRED ALFRED
Like so many people whose lives have been forever changed by the devastation of Hurricane Katrina in 2005, Ms. Alfred was displaced from her home in New Orleans.  She came to the Lisner-Louise-Dickson-Hurt Home after being forced to take shelter in the Louisiana Superdome with thousands of others until her family was able to get her.  While The Big Easy will always be Ms. Alfred's home, she is coming to enjoy life in our nation's capital.
Like her fellow resident artist, Gloria Thornbourgh, Ms. Alfred was a dancer for many years. She founded the Mildred Alfred School of Dance in New Orleans where she taught tap, ballet, acrobatics, and drum majorette routines.
As a former Girl Scout leader, Ms. Alfred is by nature an adventurer. The resident art classes are providing her with an outlet to not only develop her creativity but to channel her love of exploration into a new medium. "It's a different kind of freedom," describes Ms. Alfred; she frequently reminisces about her dancing days and uses that inspiration in her artwork.
Photographed by Walter Grio.  Written by Megan Harrington.
VALERIA DESHIELDS
While Valeria DeShields may be the newest member to the Lisner-Louise-Dickson-Hurt Home art classes, she is just as energetic and accomplished as her fellow artist residents. Mrs. DeShields has recently celebrated her 80Th birthday and claims that she has never felt older than 21. Her youthful spirit is evident in the colors and technique she chooses for her pieces.
Originally from Pennsylvania, Mrs. DeShields has been in Washington D.C. for over 50 years and came to the home with her late husband almost 11 years ago. The DeShields enjoyed traveling to distant locations like Russia, Norway, and Spain, but Mrs. DeShields holds New York City in highest regards. The couple would weekend in the city to enjoy sometimes up to three Broadway shows at a time, which may seem extreme to some but as Mrs. DeShields can tell you, her passion is music. She has been a member of several church choirs and would join any singing group that she could get an audition for. Mrs. DeShields was once in the D.C. Shiloh Baptist choir and still attends services there to this day.
Art classes, like singing, have provided Mrs. DeShields with a creative outlet for her to once again let her youthful spirit out; "I am learning a lot and having fun!"
Photographed by Walter Grio.  Written by Megan Harrington.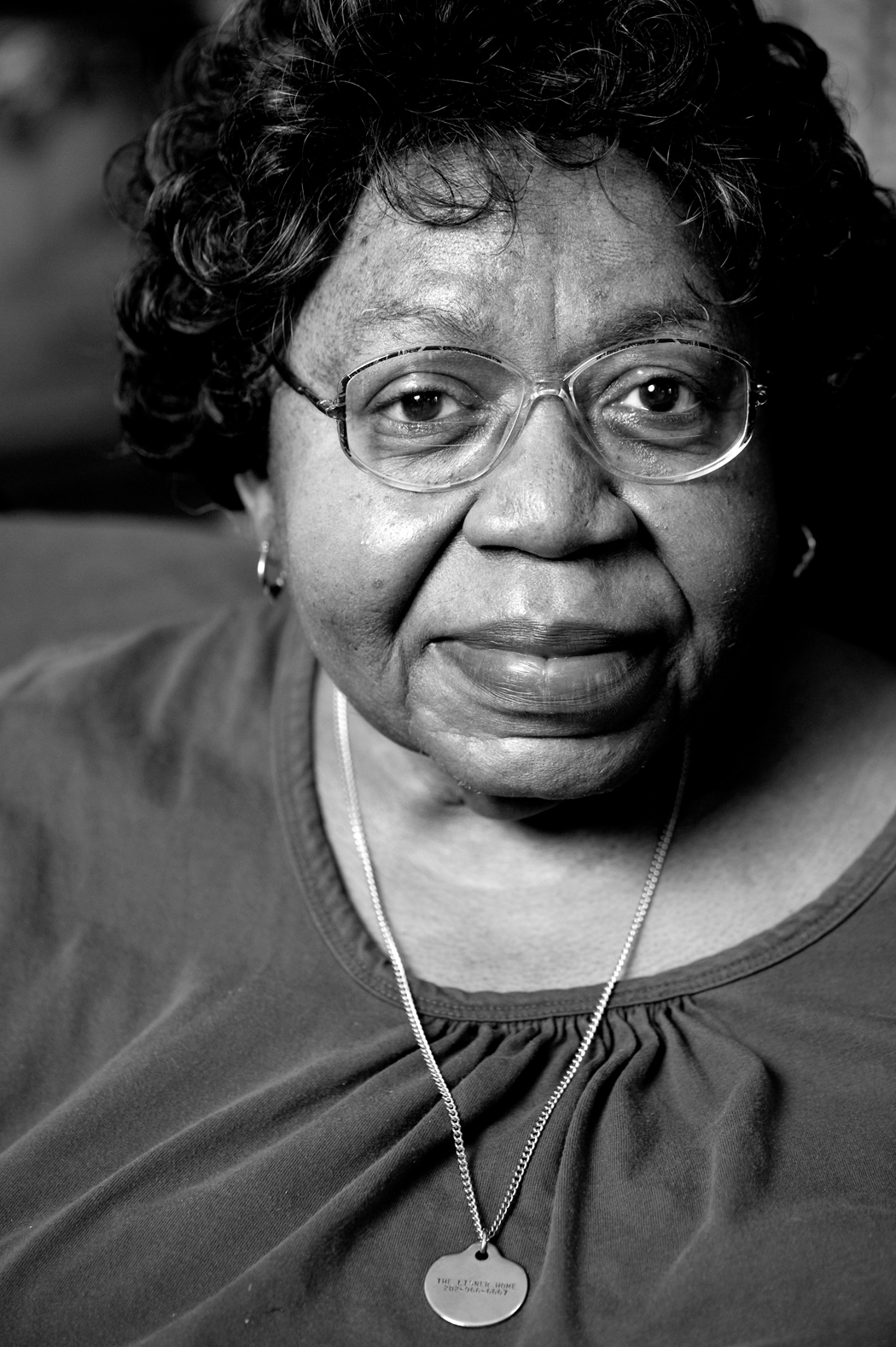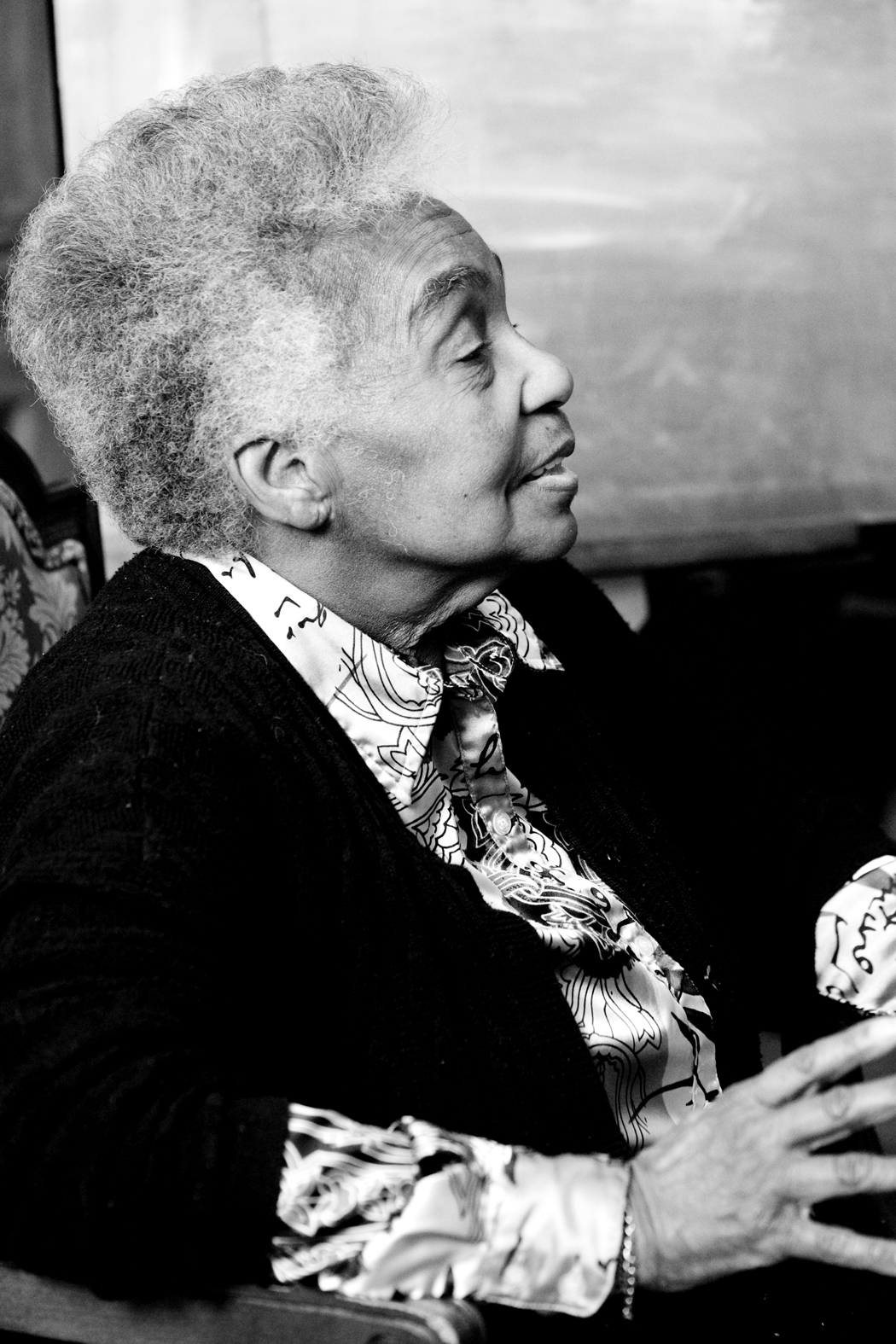 JEANNE ROBINSON
Jeanne Robinson's kind spirit is prevalent in her artwork. She puts so much of herself into all of her pieces that her character truly shines through. Originally from New York, Ms. Robinson has quite the list of accomplishments; she taught high school in New York before attending Washington D.C.'s Howard University School of Law. After graduation, Ms. Robinson had the prestigious opportunity to work in the public defender's office. Not all of Ms. Robinson's life was spent in the classroom; she has had many exciting experiences working in Jazz clubs in New York, Boston, and D.C.
Now that Ms. Robinson resides at the Lisner-Louise-Dickson-Hurt Home, art classes brighten her week. She is fond of being among her peers while being able to express herself through her creations.
Photographed by Walter Grio.  Written by Megan Harrington.
MARGARET TEMPLE
Before becoming an artist at the Lisner-Louise-Dickson-Hurt Home, Margaret Temple was a caretaker in Washington D.C. for multiple years. It is a career that she found great joy in and remembers fondly to this day. Having been born and raised in the District, Ms. Temple grew up quite familiar with the local dance scene and has been known to relive some of those days at the home's fabulous parties. Now what brings her happiness is exploring different techniques in art classes, especially the variety of tools used to create her visions. Ms. Temple is fond of the unique texture that comes from using a sponge or paper towel.
While this avid jazz enthusiast is admittedly no Picasso, she is delighted to continue after all these years. Besides the creative aspects of the classes she is fond of the social benefits as well. Ms. Temple is always excited to meet new people and says that what she is most looking forward to from the success of the class's work is a meet and greet.
Photographed by Walter Grio.  Written by Megan Harrington.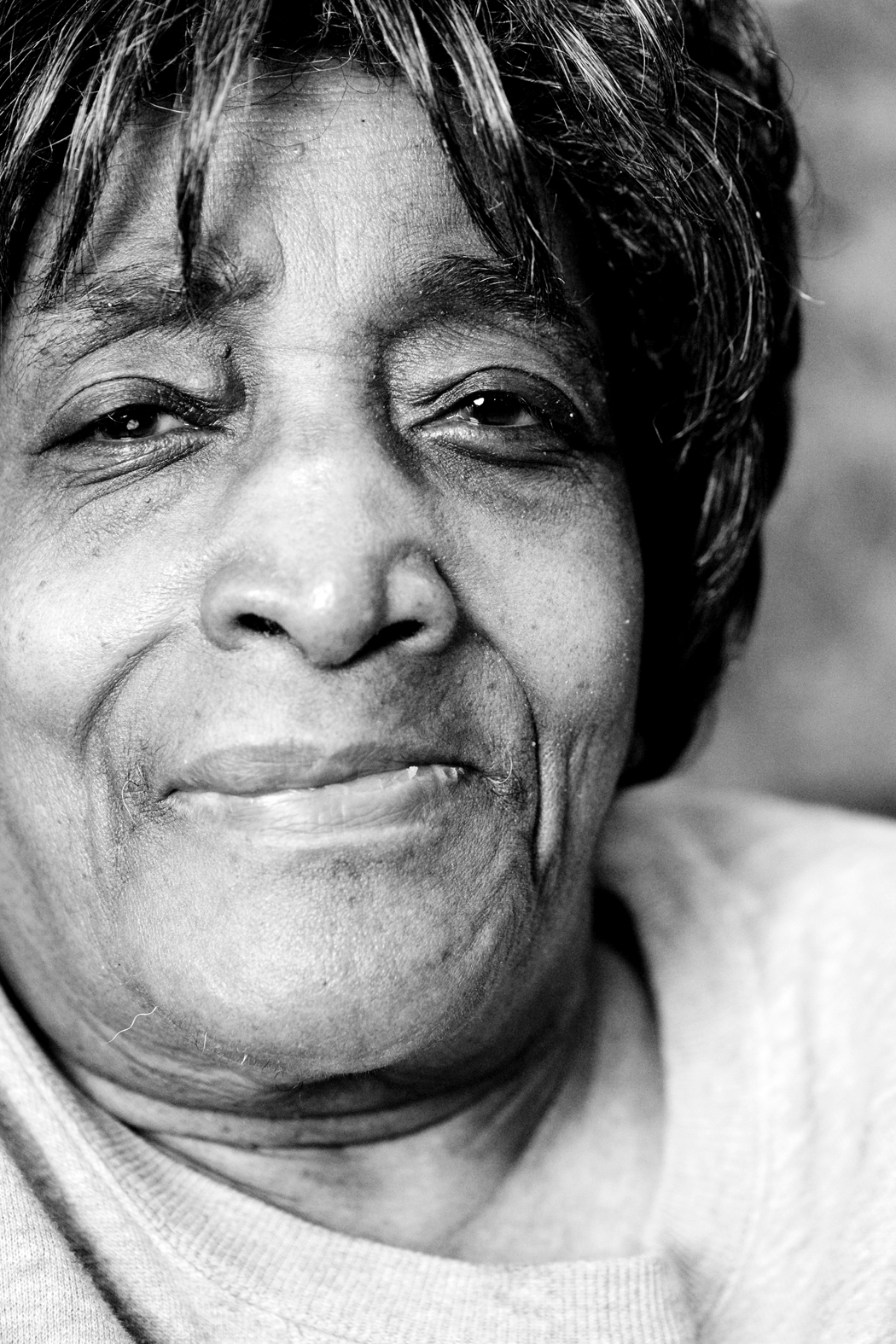 MARGARET LEWIS
Margaret Lewis is a determined and dedicated artist, who takes a lot of pride in her work. The native Virginian is a self-proclaimed critic of her colleagues work. Ms. Lewis is pleased with how much she has learned from the Lisner-Louise-Dickson-Hurt Home and now has an eye for style.
Ms. Lewis grew up enjoying sports in high school like baseball, soccer, and running track. Her competitive edge is noticed in art class as she toils over whether she is creating something beautiful while using the correct technique. Ms. Lewis admits that she takes a great deal of pleasure in painting flora, on occasion she "just takes it as it comes."
Ms. Lewis has won the Honorable Mention for Residents' Rights Week Art Contest for one of her works in the past and hopes to receive many more.
Photographed by Walter Grio.  Written by Megan Harrington.
SPECIAL THANKS
The Resident Artists show at the Lisner-Louise-Dickson-Hurt home raised over $10,000. That's over $10k worth of artwork, photoshoots, raffle tickets, and more importantly, dozens of smiling faces from the seniors living at the home.
I remember the first time I saw their art work at the Capital Breast Care Center office with my friend Jennifer Harlow. We were there for completely different reasons and when the Director of Development, Susannah Fox, told me that the art work hanging on their walls were from the LLDH home, I was instantly floored. And when I learned that the home served low to no income seniors, I instantly knew I had to take their photos.
I knew that with the portraits, I needed someone to write their stories. I'm grateful for Megan Harrington who spent countless hours interviewing each of the Resident Artists and hearing more about their stories and inspiration. The essays that Megan wrote made the art work and the residents come alive and made everyone learn more about each of the Resident Artists. A picture maybe worth a thousand words, but sometimes you actually need words to accurately capture the essence of the individual. Megan is an incredibly talented writer and I'm grateful for her time, support, and excitement about this project.
At the same time that we were planning the exhibit, I knew that I wanted to get the help of Lindsey Mask, founder of Ladies DC. I sought out her help and support as I felt that her organization was an organization that I wanted to affiliate with. As I knew more about Lindsey, there was no doubt that I was meeting a very special and caring individual. I was really glad that she met me one day (a holiday no less) at Sushiko in Chevy Chase. She instantly saw the art work, felt inspired, and wanted to help as much as possible. What she and Ladies DC have done to promote, support, and raise awareness were simply outstanding. I am also grateful for Clark Seydel, who Lindsey brought with her when we met the staff one evening to help plan the event. It was a tough time for both Lindsey and Clark as they were dealing with a loss, but they took time out of their incredibly busy day to meet with the LLDH staff. Both Lindsey and Clark are wonderful people I hope that everyone can have the opportunity to meet them both.
Around the same time, I met singer Sheena Alexis at an event at Puro Cafe. I actually heard about her and instantly Googled her and found a video on YouTube. I was immediately impressed when I heard her voice and I am so happy that she came out to sing a special song during the LLDH awards ceremony. Her performance brought tears and I'm grateful for her taking the time to be there and also inviting a special band that made this event even more unique. I hope that you will all have the opportunity to see Sheena Alexis perform.
Last and certainly not least, I would like to thank Don Patron for painting portraits of each of the Resident Artists and for this special video.  For him to take the time out of his busy schedule and paint each portrait quickly and amazingly made this event very special. All of the Resident Artists loved his work and many of them made sure they thanked him and showed their appreciation for his work. Despite the fact that Don has many things on his calendar, I'm grateful that he took the time to work on this project.
Hands down, this was one of the most special projects I've ever been involved with. I'm grateful for NBC Washington, Georgetown Dish, K Street Kate, and Bisnow for covering the event and sharing the stories about the LLDH home.
The artwork is always available for viewing.  Please feel free to call the home to setup an appointment.  I guarantee that you will love it and you will never forget it.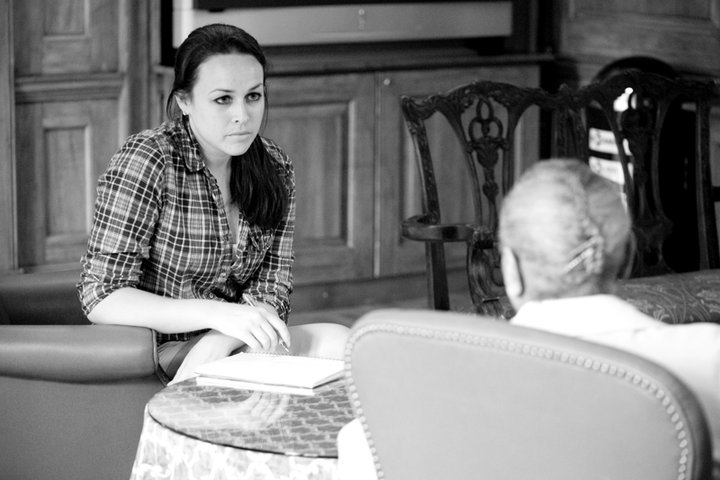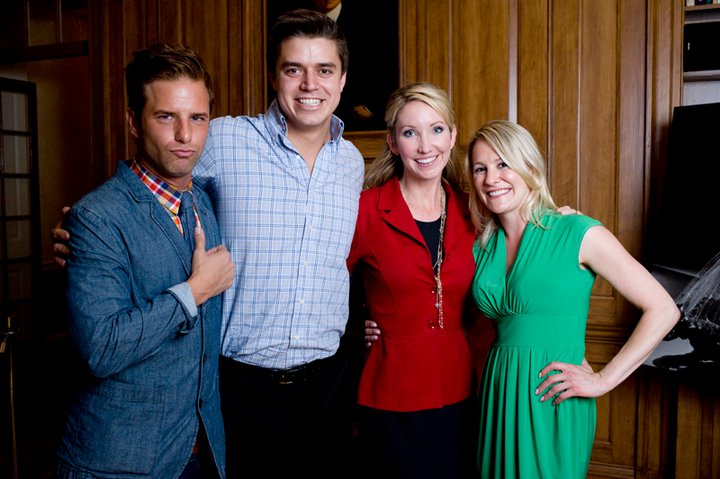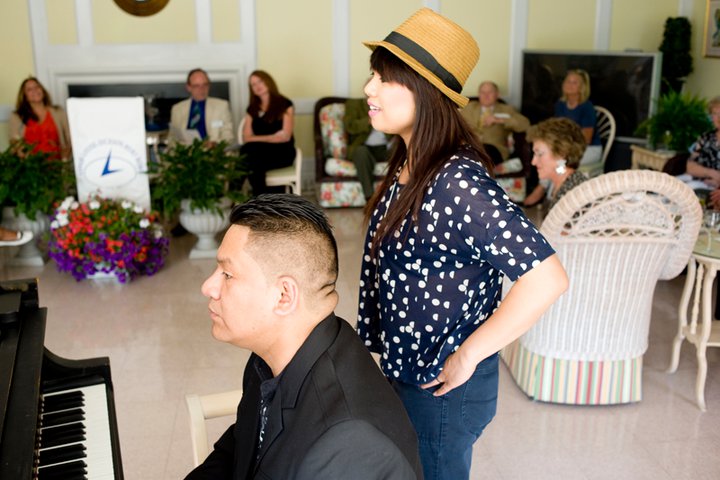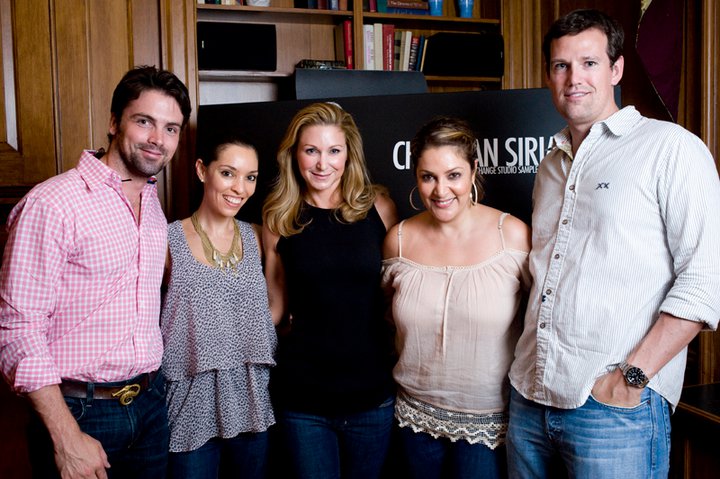 VOLUNTEER OF THE YEAR 2011
In 2011, the District of Columbia Health Care Association awarded me with the Volunteer of the Year award during their annual convention.  The nomination letter (below) from the Lisner-Louise-Dickson-Hurt Home was read aloud during the awards ceremony.  To this day, I am still speechless.
***
Sometimes miracles do happen. Sometimes someone so special, so dynamic, so sincere in their desire to help others comes along and truly rocks your world. That happened to this facility in the form of our nominee for Volunteer of the Year for 2011. It is not often that one finds in someone so young such an amazing willingness to give in both time and talent. By day, this young man works a full-time job in the information technology field; by night, he runs a photography business where all the money he earns goes to charities he supports.
We were extraordinarily fortunate to have him discover us in the course of doing a charity photo shoot at another DC nonprofit. He was so taken by what he heard about our facility that he contacted us and asked if he could help us in our fundraising efforts. And his involvement was not just personal. He reached out to others among his circle of friends and acquaintances and told them about us, urging them to become our supporters as well. He sought out other volunteers to assist us in our spring fundraising event including a vocalist, a portrait artist, a videographer, a writer, and members of the local media. His impact on this facility in terms of spreading our message of service to the elderly of DC has been immense but we aren't alone in benefiting from his involvement. His philanthropic efforts extend across the greater Washington DC metropolitan area, helping to raise more than $60,000 for various non-profit organizations since 2006.
But the money he has helped us raise and the exposure his efforts have provided this facility aren't this individual's only gifts. He has taken the residents into his heart and has demonstrated a pureness of spirit that is almost too good to be true. He loves interacting with the seniors and takes the time to really listen to their stories and their own histories. He is genuinely one of the kindest and most selfless individuals we have ever encountered. He is already helping us to plan an especially large anniversary gala and remains committed to seeing to it that our viability as a long term care institution is protected for future generations of the city's elderly. He has raised the bar against which all other volunteers to this facility will be measured. Words are frankly insufficient to express our gratitude for what he has done and what he continues to do on behalf of this facility and those we serve. It gives us great pleasure to nominate this exceptional young man for DCHCA's Volunteer of the Year.