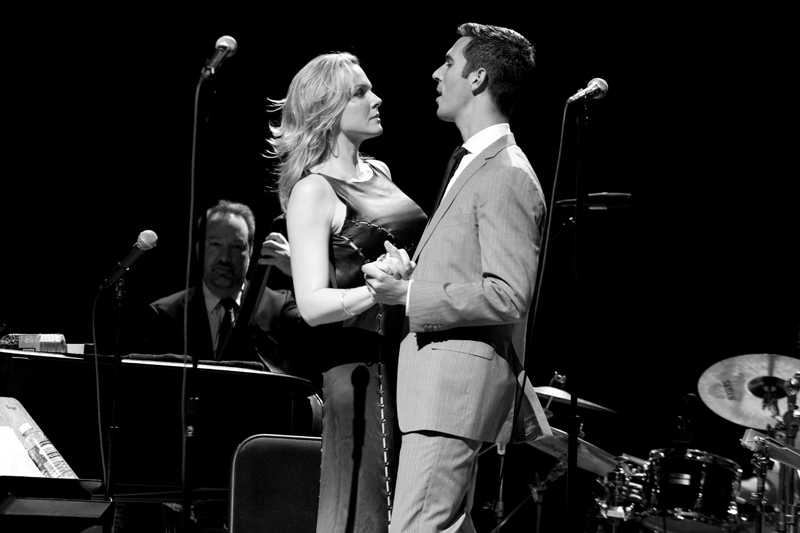 ---
Pink Martini Performs at the Strathmore
Photos and text by Walter Grio
---
December 12, 2011 – I've seen Pink Martini about a dozen times and in multiple cities: Seattle, Portland, Washington DC, London, Paris, and now Bethesda. But this is only the second time that I've had a chance to photograph them during the show. The first time was in Paris, which was obviously an incredible experience, but there's something special about seeing your favorite band in your hometown as if you're visiting a friend. I must admit that I truly miss China Forbes and her presence on stage. However, I'm glad that Pink Martini continues to go on tour as she recovers from vocal surgery.
Vocalist Storm Large has filled in quite nicely. She has the voice worthy of singing the multi-lingual songs that Pink Martini has basically trademarked and she can grab your attention with her sultry moves and playful old hollywood vibe.  Despite their differences in style and personality, Storm Large works very well on stage with Ari Shapiro.
I first saw Ari Shapiro when Pink Martini performed at The Kennedy Center earlier this year. Despite the fact that his day job includes hanging out with The President, flying around in Air Force One, and spending hours and hours at The White House, he seriously has a career as a performer. Being the NPR White House Correspondent surely has its perks, but with his GQ looks and silky butter-itone voice, Shapiro most definitely belongs on stage.  In an ironic twist, radio killed the video star.
Pink Martini also brought out a special guest: Japanese singing legend Saori Yuki, who Pink Martini band leader Thomas Lauderdale introduced as the "Barbara Streisand of Japan." And Saori Yuki did not disappoint. With Pink Martini's latest album, "1969", Saori Yuki is the lead singer in most of the songs. In the album and also tonight, Saori Yuki sang a Japanese version of "Puff the Magic Dragon" as well as a Japanese version of "White Christmas". Lauderdale explained that it was only recently that "White Christmas" was allowed to be performed in Japanese. Considering what happened in Japan this past year and that we're one week removed from the 70th Anniversary of the Pearl Harbor, the significance of her performance was felt by everyone.